Becoming More Attuned with the Soul
Mikaila Minott, M.A.
Italian Studies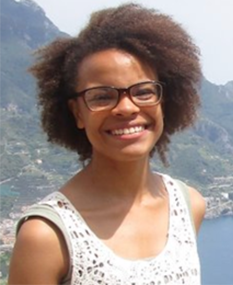 Growing up I was quite introverted and often in need of escape, so I ran to two things: reading and writing. There was nothing like being swallowed up for hours by worlds that weren't my own and creating my own realities. I took this small passion for humanities into undergrad, studying English writing, philosophy, and Italian to learn more about thought and the world and to become a better writer. Somewhere along the way I learned to break apart the worlds I had once used to escape, to dissect them and put them back together in neat, MLA-formatted packages
My swan dive into humanistic studies eventually brought me to Georgetown, where I quickly found myself face to face with my own imperfections. I had transferred my love of reading and writing to Italian, and during my first semester I was faced with a hardship that nearly broke me and forced me to leave. But I refused to be broken, and instead I buckled down and stuck my nose deep into the language and culture in order to prove my own worth, to prove that I could accomplish something others told me I couldn't.
I thought that this was going to be the hardest thing I would ever face. However, it's now, as I step outside academia for the first time in my life that I'm coming face to face with the scariest demon of them all. Now at the end of my academic journey in which I have struggled yet gained the knowledge of many different yet connected things, I am at a loss. I don't know what to do without my academic papers and piles of books.
Yet, I find comfort in something I wrote in a dialogue for a philosophy class as a sophomore: "Through poetry, I attempt to strip myself, or as Plato puts it, to purify myself of the physical and become more attuned with the soul. Through reading and writing, I acquire knowledge of poetry, however, it cannot be my end." Knowledge of the thing is not the end. Constantly proving myself is not the end.
Ultimately, I find myself at the beginning, using my acquired knowledge in my writing, yet no longer to escape the world but to live in it.