Humanities and Cura Personalis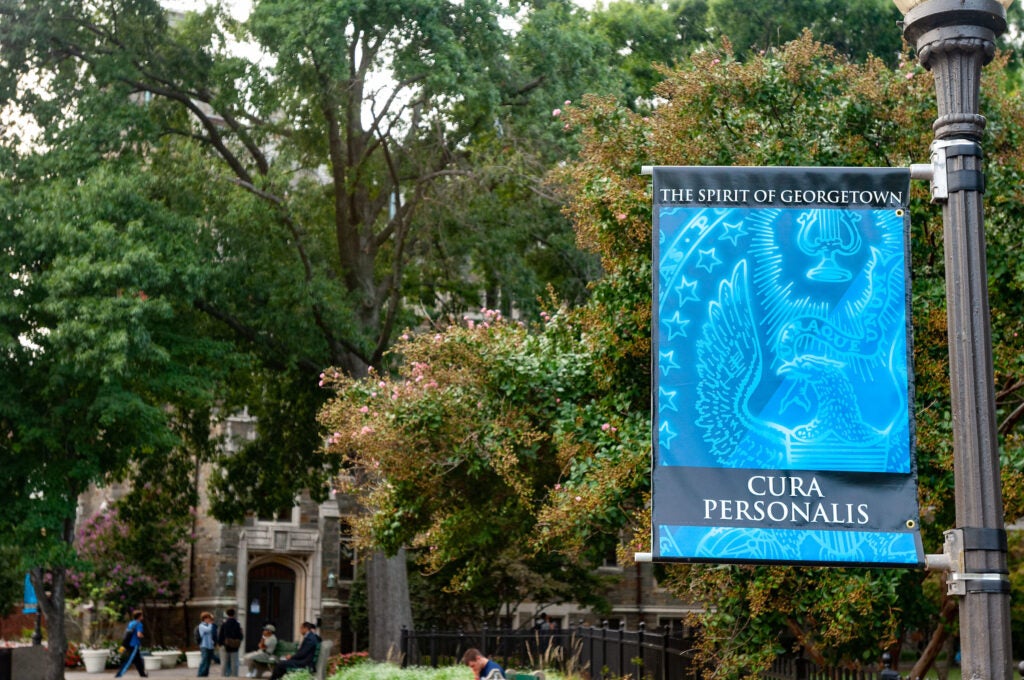 In Times of Crisis
The global pandemic and recent episodes of racial violence have left deep scars on our society. Physical distancing protocols and social disparities have led to a profound sense of separation between individuals.
Yet in this unprecedented crisis, we have also witnessed acts of compassion and solidarity that have brought people together across every divide. The realization of our vulnerability has foregrounded the need for emotional connections and mutual cooperation to reaffirm our common humanity.
The humanities play a crucial role in this search for a renewed sense of collective purpose, embodying the Georgetown mission of cura personalis as attention to the needs of each individual as a whole person. The timeless questions that the humanities ask about the complexity of the human experience inform our own stories and help us cope with uncertainty, loss, and grief by showing us that we are part of universal patterns. By nourishing imagination, the humanities foster social awareness, dialogue, and empathy, as they allow us to see things from other people's perspectives.
On this page, members of the Georgetown community engage with the current crisis as educators, students, and citizens. Their personal narratives, scholarly writings, public-facing and creative works offer insights into what we share as a collectivity in this unprecedented conjuncture. They confront us with the challenges and responsibilities of being human and highlight ways in which the humanities can bring comfort and hope to our lives.
Contributors (in alphabetical order)
Amster, Randall. "Apocalypse On-Demand." Common Dreams, 13 April 2020."Back to the Garden." Real Ground, 15 June 2020.
Benedetti, Laura. "Hoyasaxon, a modern-day Decameron: an experiment in narrative healing." The Irish Times, 2 June 2020.
Doherty, Jane, and James Giordano. "What we may learn – and need – from pandemic fiction." Philosophy, Ethics, and Humanities in Medicine, 21 July 2020.
Elie, Paul. "(Against) Virus as Metaphor." The New Yorker, 19 March 2020.
Fink, Jennifer Natalya. "Bitter Flower." Burning Coal Theatre Company, 28 August 2020.
Heck, Paul. "Companionship and Human Horizons after the Pandemic". [in Arabic] Afkaar [Ideas], 13 April 2020.
Henderson, Gretchen (co-authored with Wyborn, C., Montana, J., Kalas, N., et al.). "An Agenda for Research and Action Towards Diverse and Just Futures for Life on Earth." Conservation Biology, 26 November 2020.
—. librettist. Cassandra in the Temples, composed by Elena Ruehr, performed by The Thirteen. 2021.
—. (co-authored with Wyborn, C., Davila, F., Pereira, L. et al.). "Imagining transformative biodiversity futures." Nature Sustainability, 3 August 2020.
—. "Reimagining biodiversity narratives and pandemics." Luc Hoffman Institute, 6 April 2020.
–. "What is Research? An exercise in Slow Research." Ransom Center Magazine. 3 September 2020.
Hollenbach, S.J., David. "The challenges of Jesuit global education: responses to poverty and displacement." International Studies in Catholic Education, 20 October 2020.
Jilani, Safia. "How a Twitter discussion on #InvisibleWorkSTEM catalyzed institutional change." C&EN, The Weekly Magazine of the American Chemical Society, 98 (26), 6 July 2020.
Jun, Nathan, and Mark Lance. "Anarchist Responses to a Pandemic: The COVID-19 Crisis as a Case Study in Mutual Aid." The Kennedy Institute of Ethics Journal, September 2020.
Kaplan, M. Lindsay. "The Christian Origins of Racism." Marginalia, 26 February 2021.
Kenny, Christopher. "Mark Bosco, S.J., Ph.D." Public Writing Blog. 23 February 2021.
Khúc, Mimi. "Failing in the time of Covid-19." Mimi Khúc, 5 May 2020.
Krishnan, Lakshmi, with S. Michelle Ogunwole and Lisa A. Cooper. "Historical Insights on Coronavirus Disease 2019 (COVID-19), the 1918 Influenza Pandemic, and Racial Disparities: Illuminating a Path Forward." Annals of Internal Medicine, 5 June 2020.
Marchalik, Daniel. "From literature to medicine. Seeing COVID-19 through José Saramago's Blindness." The Lancet, vol. 395, 20 June 2020.
Marsh, Abigail. "How we can keep fear from spiraling out of control." The Washington Post, 23 June 2020.
Parsons, Cóilín. "On Not Learning from Camus's The Plague." Los Angeles Review of Books, 23 April 2020.
Paulino, Ashly. "Michelle May-Curry & The Humanities for All." Public Writing Blog. 23 February 2021.
Perlow, Seth. "The poetry that speaks best to the pandemic." The Washington Post, 11 June 2020.
Shahbaz, Ali. "Non-Black minorities are complicit in Black oppression." The Boston Globe, 19 June 2020.
Steenhuisen, Lauve. "Caring for the Whole Person in the Back of a Honda Accord." July 2020.
Stohr, Karen. "Ask the Coronavirus Ethicist: Was It Ethical to Hit the Bars Last Weekend?." The Washingtonian, 19 March 2020.
Tannen, Deborah. "Coronavirus Will Change the World Permanently. Here's How." Politico, 19 March 2020.
Temple, Kathryn. "Step Up, Lean in Humanities." Medium, 20 May 2020.
Wang, Michelle C. "The CDC's Misappropriation of a Chinese Textile, and Why It Matters."  Hyperallergic, 11 May 2020.
Watts Belser, Julia. "Disability and the Politics of Vulnerability." Berkley Center for Religion, Peace & World Affairs, Berkley Forum, 15 April 2020.
Wu, Duncan. "3 Sonnets about the Virus." YouTube, 27 May 2020.
Young-Daniels, Roslyn, and M. Lindsay Kaplan. "Black health matters. COVID has shown that improving care must be a national priority." USA Today, 11 July 2020.