Georgetown Humanities Initiative Junior Faculty Book Manuscript Workshops
With the aim of supporting the career development of humanities pre-tenure faculty members, the Georgetown Humanities Initiative has made grants available for Junior Faculty Book Manuscript Workshops. The program covers travel and other expenses associated with bringing experts to Georgetown to review and offer guidance on humanities junior faculty's monographs in progress with the goal of securing a publishing contract.

Bradley Gorski, Assistant Professor in the Department of Slavic Languages and Literatures, is one of this year's awardees and recently held a very successful workshop on Cultural Capitalism: Literature and the Market after Socialism with Helena Goscilo (Slavic and Gender Studies, The Ohio State University), Kevin Platt (Comparative Literature, University of Pennsylvania) and Serguei Oushakine (Slavic and Anthropology, Princeton University).

In addition to the workshop, Prof. Gorski organized a public event with the three guest scholars on "Studying Russian Culture in a Time of War" which discussed the ethical implications, logistical challenges, and institutional entanglements of working on and in a country that has launched an unprovoked and brutal invasion of its neighbor.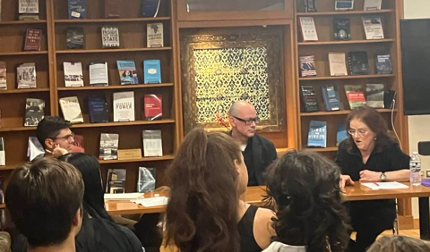 We wish Prof. Gorski all the best for his book and we look forward to showcasing two other junior colleagues next semester.

A new call for applications for AY 2023-24 will be announced in the Spring.