Meet Dr. Cinthya Ammerman, 2021-22 ACLS "Emerging Voices" Postdoctoral Fellow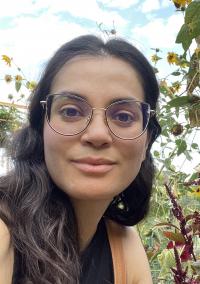 Cinthya Ammerman (PhD Native American Studies, University of California, Davis) joined the Georgetown Humanities Initiative for the 2021–22 academic year as an American Council of Learned Societies (ACLS) "Emerging Voices" Postdoctoral Fellow. She is the second scholar to hold this position, which was created as part of a new effort to support the work of early career scholars whose voices, perspectives and broad visions will strengthen institutions of higher education and humanistic disciplines in the years to come. 
Dr. Ammerman is a multi heritage interdisciplinary scholar from Wallmapu, ancestral Mapuche homelands in southern Chile. She was raised throughout Latin America before coming to the U.S. to study sociology at George Mason University. She went on to complete her MSc in Community Development and PhD in Native American Studies at the University of California, Davis.
Dr. Ammerman's work centers on hemispheric relationality, emphasizing the interconnectedness of the American landscape to contest the imagined geopolitical boundaries of settler nation-states. Her dissertation "The 'Dream of a Chilean California' and the Colonization of Wallmapu" establishes largely neglected socioecological connections between Mapuche and California Native homelands, that foreground the intersection between the history of colonization and the current climate crisis.
Building on the historical links between Chile and California, her forthcoming article in The Annals of the American Association of Geographers demonstrates the relationship between colonization, displaced plant species, and the increasing risk of wildfires in both regions. She argues that hemispheric exchanges of Traditional Ecological Knowledges could yield robust strategies for mitigating wildfire risk and adapting to climate change.
As a Native Studies scholar, Dr. Ammerman's work supports the sovereignty, autonomy, and self-determination of Indigenous communities to whom she is accountable. She has raised awareness of issues affecting Indigenous peoples through public-facing work in podcasts and radio interviews, on a mapping project of the Dakota Access Pipeline, and through service projects such as the creation of videos and a website for a Q'eqchi' Maya community organization.
She is currently working with Dr. Shelbi Nahwilet Meissner (Luiseño/Cupeño, Asst. Prof. in the Dept. of Philosophy) to co-found a Georgetown project that will bring together stakeholders throughout the university to participate in the creation of a formal land acknowledgment, and will establish relationships with the Piscataway people, whose ancestral homelands Georgetown University was built on.
For the spring 2022 semester, Dr. Ammerman will teach IDST 341-001 "Indigenous Land Defense Movements," a course she has created on Indigenous movements for land defense in the Americas. This course will introduce basic concepts in Native American and Indigenous Studies such as decolonization, Indigeneity, mestizaje, settler colonialism, sovereignty, and autonomy. Through texts by a broad range of scholars and activists, the course will trace the colonial origins of our current environmental crisis and the longstanding effort of Indigenous peoples to repair our relationship with the land. The interdisciplinary and international focus will enable students to engage with the course materials from their own disciplinary and geographic grounding.