New Name for Medieval Studies, Program Hosts World-Renowned Translator
The Medieval Studies Program, which had focused chiefly on Western Europe, was redesigned and renamed the Global Medieval Studies Program in 2019. This new, more capacious structure signals a step towards the future as the field undergoes a 'global turn'. Georgetown is at the forefront of change, becoming the first university in North America to offer a major in Global Medieval Studies. Students now have a broader range of course options, from perennial favorites like John Hirsh's Chaucer and the Fourteenth Century and Julia Lamm's Medieval Women Mystics to Michelle Wang's Art of the Silk Routes, Kate de Luna's History of Africa, and Tim Newfield's Global History of the Plague.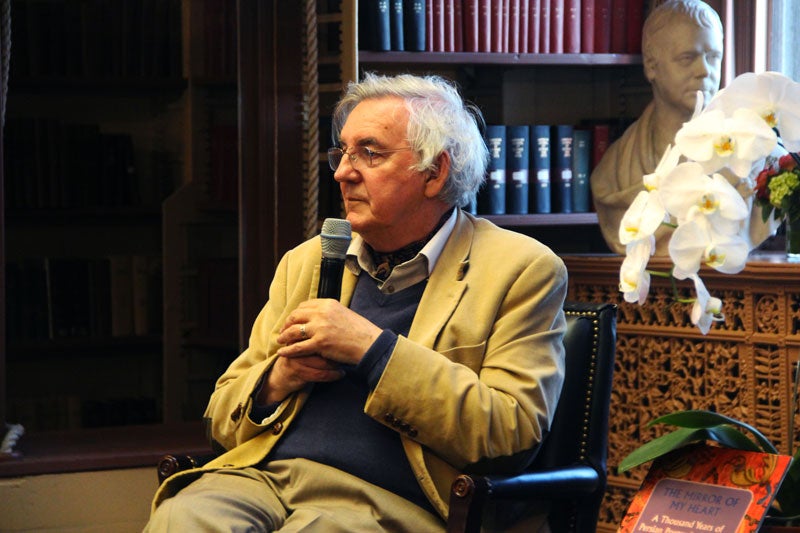 In the Fall, Global Medieval Studies and the Georgetown Humanities Initiative hosted world-renowned translator Dick Davis, who gave a reading in the lovely setting of Riggs Library from his new collection, The Mirror of My Heart: A Thousand Years of Persian Poetry by Women.  Dean Chris Celenza served as respondent for the event, and we were delighted to have so many members from the community present for the talk and reception, which was made possible by the generous additional support of Global Georgetown and the Jalinous Endowed Fund for Persian Studies. 
 We will continue to provide links and items of interest on the program website to foster community and connection during uncertain times.  For now, we wish to express our gratitude to the College for its robust support for the program, looking forward to further collaborations in the years ahead.