The Objectivity of Writing in the Humanities
Ali Shahbaz (F'20)
Having grown up across three continents, Ali came to the School of Foreign Service to become a career-diplomat. Little he knew that here he would find ways for public service beyond just the traditional professional pathway of joining the foreign service. Public writing became his outlet for giving back to his community.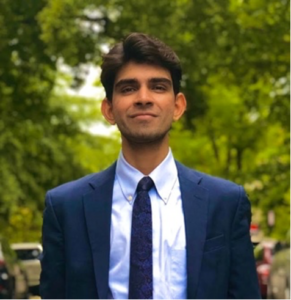 Ali had been writing for a while, but never had the courage to make his texts public – he would only share with close friends and professors. But when the pandemic took its toll this year, Ali decided to foray into public writing. He wrote his first Op-Ed in the Washington Post, focusing on the paradox of graduation ceremonies against the harshness of the death toll caused by the virus. He argued that celebrations at this time of global mourning were insensitive and irresponsible. 
Writing felt empowering for Ali; the ability to express views at a public level and see readers engage with it brought a surge of fulfillment. Since then, Ali wrote for the Boston Globe and Newsday on intersectional issues of race, privilege and power. Recently, he was also brought on board as a contributor at Forbes to write on issues affecting young people. A selection of his articles is now included in "The Humanities and cura personalis in Times of Crisis."
What is Ali's approach to writing? There isn't one, he says. What usually works is to get 'inspired' by current events and see if you share a strong affinity to any area of public discourse. To have a point of view is important. Writers owe it to their readers to craft texts that will be interesting, informative and at times, provocative. No one wants to read the same idea over and over again. Pushing boundaries is key. 
But one has to be careful, Ali shares. Being controversial just for the sake of it is playing with fire. In an era of sensational news and alternative facts, forcefully creating provocative content can be a disservice to readers and in fact, a disservice to yourself. It distances you from objectivity – which is, at the end of the day, the single most important commodity any scholar of humanities can strive for. 
Georgetown taught me well to understand this sense of honesty and integrity, Ali says. In his first few semesters, he enrolled in a range of humanities courses that stretched his exposure to a variety of forms of thinking, cultures and viewpoints. These became strong reference points to later translate into sharp opinion pieces based on observations of the political climate. 
While still at the beginning of his writing career, Ali is looking to write a longer non-fiction work when the right publishing opportunity comes along. Till then, he continues to write a weekly column for Forbes, in the areas of Diversity and Inclusion.