Panel Discusses Recent Book, The Teaching Archive
On August 25, we opened the semester with a forum on an important recent book, The Teaching Archive: A New History for Literary Study, by Laura Heffernan and Rachel Sagner Buurma.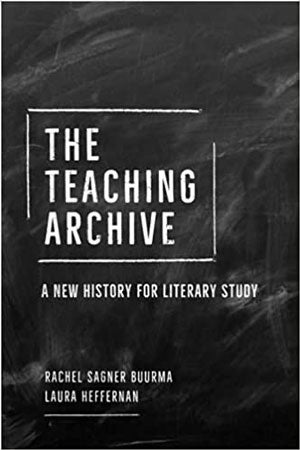 It draws on archival syllabi and class records to replot the history of literary criticism, placing the classroom at the center of methodological innovations normally separated out as "research."
Speakers included Stacey Amo (U-Wisconsin, Superior), Nadine Attewell (McMaster U), Meredith Martin (Princeton U), Rebecca Ariel Porte (Brooklyn Institute), and Andrea Kaston Tange (Macalester College). The event was moderated by Nathan K. Hensley, Associate Professor of English at Georgetown.
Speakers showed how race and empire were always being taught in classrooms even before becoming topics of 'research' attention; how feminist concerns drove pedagogical agendas even while men dominated the production of literary monographs; how data-based methods were used long before the invention of Digital Humanities. The discussion emphasized vast and far-reaching consequences for how we understand humanities research, with implications that are particularly relevant to the mission of our university.
A recording of the event is available here: