Georgetown Humanities Initiative Welcomes First Postdoctoral Fellow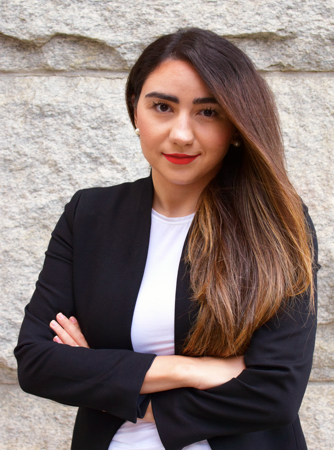 Meet Ayten Tartici, PhD
Ayten Tartici (Ph.D. Comparative Literature, Yale University) joined the Georgetown Humanities Initiative for the 2020–21 academic year as an American Council of Learned Societies (ACLS) Emerging Voices postdoctoral fellow.
Tartici is a writer, literary critic and scholar of global modernism, aesthetic theory and contemporary fiction. She was raised in Turkey before coming to the United States to attend Harvard University, where she studied comparative literature and political science. She went on to complete her MA, MPhil and PhD in Comparative Literature at Yale University as a Richard J. Franke Fellow. In Fall 2020, she joined the Georgetown Humanities Initiative as an American Council of Learned Societies (ACLS) (new window) Emerging Voices postdoctoral fellow. Her position was created as part of a new effort to support the work of early career scholars whose voices, perspectives and broad visions will strengthen institutions of higher education and humanistic disciplines in the years to come.
Her current book project explores the aesthetic stakes and political implications of slowness, starting with the modernist novel and extending through the emergence of recent movements such as "slow food" and "slow art."
She looks at an array of novels, artworks, musical compositions and films across different languages to explore how slowness was an unusually persistent leitmotif and source of formal innovation in twentieth and twenty-first century literature, art and music. The project was awarded the John Addison Porter Prize for best scholarship of general human interest in a university-wide competition at Yale across both the humanities and the sciences. An excerpt was published in ASAP/Journal's September 2019 issue. In addition to preparing this book project for publication, Ayten is currently researching a new article on the poets Audre Lorde and Anne Boyer and their breast cancer-related narratives. Both writers imagine not just the temporal course of their illness, such as the unpredictability of relapse, but also the physical consequences of being hindered by disease. 
Outside of her scholarly work, Ayten has contributed widely to public-facing venues, including The Atlantic, The New York Review of Books, The New York Times Book Review, Slate, and Yale Review, on a range of topics in the humanities, from contemporary French fiction to the history of photography in Turkey and Abbas Kiarostami's use of digital techniques as late style. In September 2020, she participated with other Georgetown scholars as a panelist for a GHI event entitled "Humanities in Action: Academics and Public Writing." At Georgetown, she will also serve as a member of the nomination committee for the Peabody Awards. She is a devoted pilgrim to the New York Film Festival and a regular translator from Turkish and Italian. 
For the spring 2021 semester, Tartici will be teaching a course entitled "Hyphenated Americans." Through close readings of authors such as Ocean Vuong, Valeria Luiselli, Elif Batuman and Hak Kyung Cha, her course will look at how contemporary literature, art and film produced by American immigrants and their descendants form a core feature of the American cultural landscape, giving rise to new forms of experimental writing and expressions of emotion and humor.