Highlights from the Global Irish Studies Initiative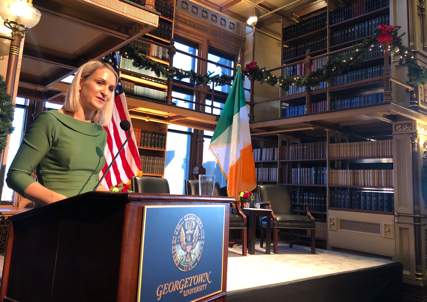 The Global Irish Studies initiative (GIS), established in 2016, builds on a long tradition of Irish and Irish-American involvement at Georgetown University. GIS has three core aims: engaging the community; inspiring students; and developing research. By staging timely and meaningful public events, supporting innovative teaching, and facilitating student and faculty research, GIS hopes to build the most exciting Irish Studies program in North America. Given both its Irish heritage and its global outlook, Georgetown University is the perfect home for a new kind of Irish Studies–one that looks at Ireland in comparative perspective, understanding it as an ideal case study for asking probing questions about the world we live in today.
A highlight of the 2019-20 academic year was the "Bridging the Atlantic" symposium, which provided an opportunity to reflect on the implications of Brexit for EU-US relations and, in particular, on the challenges and opportunities it presents for Ireland. The keynote speaker of the symposium was Ireland's Minister for European Affairs, Helen McEntee. In early February, working with the City of Dublin Libraries, the program brought to campus two winners of the world's richest literary prize, the Dublin Literary award. Colum McCann (2011 winner) and Emily Ruskovich (2019 winner) were interviewed by NPR book critic and Georgetown English Department professor Maureen Corrigan.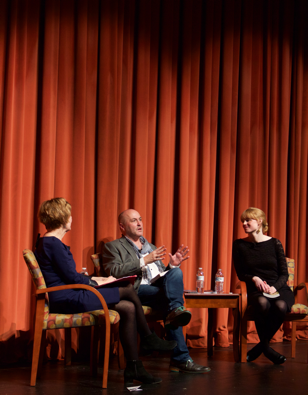 To support ongoing student research and stimulate new interest, GIS sponsored its first undergraduate and graduate fellows, Megan Rooney and David Bennett, who travelled to Belfast and Dublin to conduct interviews and archival research toward their theses. Despite the Covid-19 disruption, the program continues to offer stimulating and thought-provoking activities online through the summer in a collaboration with Politics and Prose bookstore.