Krishnan leads Medical Humanities Initiative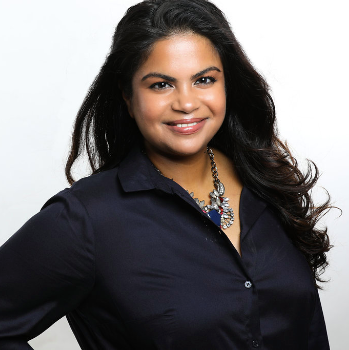 Lakshmi Krishnan—a historian of medicine, medical humanities scholar, and physician—is the founding Faculty Director of the Georgetown Medical Humanities Initiative (new window), a cross-university collaboration between Georgetown College, Georgetown Humanities Initiative, and Georgetown University Medical Center. The Medical Humanities Initiative strives to re-center healthcare in a broader social, cultural, and historical context, and promote learning, development, and discovery at the intersection of the humanities, health, and healing.
A first-generation immigrant, Krishnan grew up in a variety of places including India, the UK, and the US. After earning degrees in English and German at Wake Forest University, she attended the University of Oxford as a Rhodes Scholar, where she read for a Masters and DPhil (PhD) in English, specializing in 19th century literature and history.
She then completed an MD at the Johns Hopkins University School of Medicine, followed by internal medicine residency at Duke, where she was a Faculty Affiliate at the Trent Center for Bioethics, Humanities, & History of Medicine, and a postdoctoral fellowship in General Internal Medicine and History of Medicine at Johns Hopkins.
Dr. Krishnan's research focuses on health equity and the history of health disparities, intellectual history of medicine, 19th century and early 20th century literature and medicine, and cultural responses to illness. Her book project, The Doctor and the Detective: A Cultural History of Diagnosis (forthcoming, Johns Hopkins University Press), argues that the medical practice of diagnosis cannot be understood without examining its shared intellectual lineage with the literary genre of detective fiction. This work has clinical relevance in responding to emerging disease or medical mystery on a global scale, the diagnostic process in the face of new technologies, and the immediate problem of diagnostic error and bias in clinical practice. Her work appears in The Lancet, Annals of Internal Medicine, Literature and Medicine, Modern Language Review, Victorian Literature and Culture, and Victorian Poetry, and has won awards from the Academy of Health Communication and National Endowment for Humanities.
Through interdisciplinary courses open to undergraduates, nursing, and medical students, speaker series, and research mentorship, the Georgetown Medical Humanities Initiative aims to contribute to scholarship and activism in the growing fields of medical humanities and social medicine, develop community and cultivate meaningful partnerships across Georgetown and Washington, DC, and engage faculty and students across the University and at partner institutions via mentorship, faculty development, and research networks. In 2020, the Medical Humanities launched an inaugural fellowship program, awarding stipends to undergraduate and graduate students conducting outstanding projects in the fields of medical humanities and social medicine.